What is it

Ultra lightweight, this invisible sunscreen is formulated with Damask rose extracts, ensuring that your skin stays fresh and hydrated throughout the day without any streakiness or a white cast (official description).

How I use it

Shake it well, then apply a dime-sized amount after I've applied my moisturizer. Wait 30 seconds, then apply a second layer.

Best suited for

Oily/combo skin types, but even dry skin will find this tolerable as it's not overly drying like other matte sunscreens.

Key ingredients

Zinc oxide, titanium dioxide (full ingredients)

Irritants

Geranium essential oil and bergamot essential oil are pretty high up the list, so those with eo sensitivities will want to avoid this sunscreen

Packaging

Your typical plastic sunscreen squeeze bottle, though props for the simple design and pink + white combo – so millennial

Scent

Floral yet woodsy, personally I'm not a fan. It's pretty strong at first too, though it does fade after a few minutes.

Texture

A milky liquid with a ton of slip, thanks to a blend of emollients, including silicones

Finish

Silky, smooth, and matte, as if you had just used a mattifying primer. Even the appearances of pores are minimized! There's a slight white cast initially, but it fades after a few minutes

Availability

$10 at Althea (get 20% off your first order)
Obsession-worthy texture
I shared my first impression on Instagram a while back (follow me on Insta for more mini reviews!), and my feelings towards the texture and finish have not changed. As a physical/inorganic sunscreen, it truly has one of the most elegant formulas I've come across – silky, lightweight, and a pore-blurring finish with minimal white cast. It's different from your typical dewy (more like shiny) Asian sunscreen with mattifying properties, yet it doesn't leave my skin dry or tight, even in the winter time.
My favorite aspect though? Despite the amount of silicones it contains, it doesn't pill at all! I can layer this on generously and it plays very well with my moisturizer and makeup. As a matter of fact, because it gives skin a bit of a soft-focus blur, I find myself skipping foundation when I use this.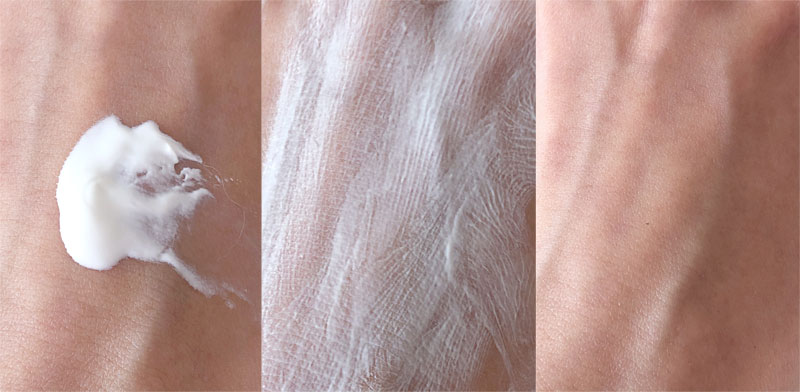 So close to perfection, but…
I honestly thought this was the perfect everyday sunscreen at first, but then I started looking into the ingredients, and oh boy:
There's no % of the zinc oxide or titanium dioxide. Yes the sunscreen says SPF50 PA++++, but independent tests have shown that not all sunscreens live up to their claims so ideally I'd like to see at least 18% zinc oxide for peace of mind.
There's no hyaluronic acid. It's listed as one of the "key ingredients" on the official site, but you can't find it or its derivatives in the ingredient list! This issue has now been addressed by Althea and they have removed this claim from the product page.
Why are the essential oils so high on the ingredient list? For me any benefits they may have are outweighed by the possible irritations, not to mention bergamot essential oils can cause photosensitivity, due to the component furanocoumarins. There are furanocoumarin-version, but Althea won't confirm which version they use.
Honestly the EOs irk me so much, because they market this as suitable for sensitive skin with their physical/organic filters, but then they include essential oils? Like why?
Knowing the above about the formula, it's hard to call this a holy grail. Since I work from home and am barely outdoors, I don't mind using this as my everyday sunscreen, as it definitely will provide adequate protection for my needs. But if you regularly spend time outdoors, I recommend something with better protection.
Further reading: 7 sunscreens for all scenarios and skin types
Final Verdict
Packaging
Ingredients
Texture/Application
Performance
Price
What can I say, stunning texture that doubles as a primer, but I'm seriously disappointed in the ingredients. Also, I'm not a fan of the deceptive advertising - not that I really need hyaluronic acid in my sunscreen, but it makes me wonder what else Althea is being dishonest about? Althea did finally address this after my Instagram post, but I still don't think it should've been an issue to begin with. On the other hand, everything else I've tried from them has been lovely, so maybe this was just a one-off incident.
Since there are a million sunscreen options out there, this is definitely not a must-have by any means, or even a must-try, unless you're exposed to very little sun. I personally will not be repurchasing this.
Honestly this is proof that we should all pay more attention to the ingredient list, rather than what brands claim. Hope you found this helpful, and I wish you all a very happy holidays!