I first discovered this brand from Instagram influencers and have since heard nothing but rave reviews across the board. Now that I have the Allies of Skin Mandelic Pigmentation Corrector Night Serum, let's see if their products truly live up to the hype.
Quick Summary
A glycolic acid free exfoliating treatment that's still effective without being irritating.
Full of science-proven ingredients without any frivolous additives.
Expensive but delivers visible long term results!
Quick Facts
What is it
This next-generation overnight serum (pH 3.5) is supercharged with a hardworking blend of 11% Mandelic, Lactic + Salicylic Acid, 1% Bakuchiol, 8 Brighteners and 7 Antioxidants and Peptides, that treats stubborn pigmentation, melasma, large pores, persistent breakouts, uneven texture and blackheads.
How I use it
Twice a week in the evenings, after my first essence and before my other serums. Two pumps is enough for my face, and I wait a few minutes before continuing on with the rest of my routine. Make sure you shake the bottle beforehand!
Best suited for
Sensitive skin types that want a gentler alternative to the more common and stronger glycolic acid serums. Oily and more resilient skin types might find the exfoliating results lacking, though this does contain other ingredients that will generally benefit all skin types.
Things to note
Fragrance/essential-oil/alcohol free.
Packaging
An airtight plastic pump that feels and looks sleek. There is a tendency for product residue to accumulate near the dispenser though, so make sure you wipe after each use.
Scent
Fragrance-free, but it has a slightly sour smell to it, kind of like yogurt?
Texture
A creamy serum that feels slightly sticky to the touch. Spreads and absorbs well.
Finish
Has a slight shine and tackiness initially. Both go away after you follow up with your other products (which you should, at the very least a moisturizer).
Where to buy
$92 for 30ml on Dermstore, CultBeauty, Beautylish, and SpaceNK
Ingredients Highlight
Aqua (Water),
Mandelic Acid
, Glycerin, Butylene Glycol, Polysorbate 20,
Niacinamide
,
Lactic Acid
,
Rose Hip Fruit Oil
,
Tanamu Seed Oil
,
Superoxide Dismutase
,
Bakuchiol
,
Salicylic Acid
,
Tocopheryl Acetate
,
White Tea Leaf Extract
,
Panthenol
,
Hyaluronic Acid
,
Resveratrol Dimethyl Ether
,
Rumex Occidentalis Extract
,
Ascophyllum Nodosum Extract
,
Nonapeptide-1
,
Palmitoyl Tripeptide-5
,
Acetyl Tetrapeptide-40
, Diethylhexyl Syringylidenemalonate, Dextran, Xanthan Gum, Sclerotium Gum, Caprylic/Capric Triglyceride, Ethylhexylglycerin, Sodium Gluconate, Caprylyl Glycol, Sodium Hydroxide, O-cymen-5-OL, Phenoxyethanol.
If we were to rank products purely on ingredients, the AOS Mandelic Pigmentation Corrector Night Serum would definitely be a top 3 pick for me. Just look at this beautiful list!
Mandelic Acid is one of my favorite AHAs as it's both oil and water soluble. That means it can get deeper into your pores to clean them out, similar to salicylic acid, while still working on the surface level. The larger molecules also makes it gentler than glycolic acid!
Lactic Acid is another gentle AHA exfoliant that can also moisturize the skin1!
Salicylic Acid is a popular BHA that's excellent at exfoliating the inside of our pores.
Bakuchiol is a plant extract that has the benefits of retinol without the side effects, as shown in a 2018 study2. It also shows anti-acne effects3 when paired with Salicylic Acid, which is present in this serum.
Niacinamide is one of my favorites as well since it does everything: brightens, protects, hydrates, and smooths wrinkles. LOVE. ♥
Superoxide Dismutase is a powerful antioxidant that doesn't get enough love! In-lab tests4 actually find it to be more potent than vitamin e, vitamin c (MAP), and green tea extract!
White Tea Leaf Extract is a powerful antioxidant that might be even more potent than green tea leaf extract as it's harvested at an earlier stage and requires less processing5!
Resveratrol Dimethyl Ether, aka Pterostilbene6, has the same antioxidant benefits as regular resveratrol, but shown to be even more effective against UVB oxidative damage7. It also has skin-brightening and anti-aging properties8.
Rumex Occidentalis Extract has been shown to have skin brightening effects9, especially when it comes to tough discoloration like age spots and melasma. It's been compared to hydroquinone, but minus the side effects!
Ascophyllum Nodosum Extract is a species of algae, which are naturally full of bioactive compounds. This one in particular has been shown to have anti-aging properties10.
Nonapeptide-1, Palmitoyl Tripeptide-5, Acetyl Tetrapeptide-40 are all peptides but do different things. N-1 brightens, PT-5 increases collagen production, and AT-40 is anti-inflammatory and can reduce redness11,12,13.
Rosehip Oil and Tanamu Oil both are full of nourishing fatty acids and have skin-repairing properties, which pairs well with the potentially skin-sensitizing acids.
Panthenol and Hyaluronic Acid are both humectants that attract and retain moisture on the skin. What's interesting is that HA can also act as a penetration enhancer for water-soluble actives14!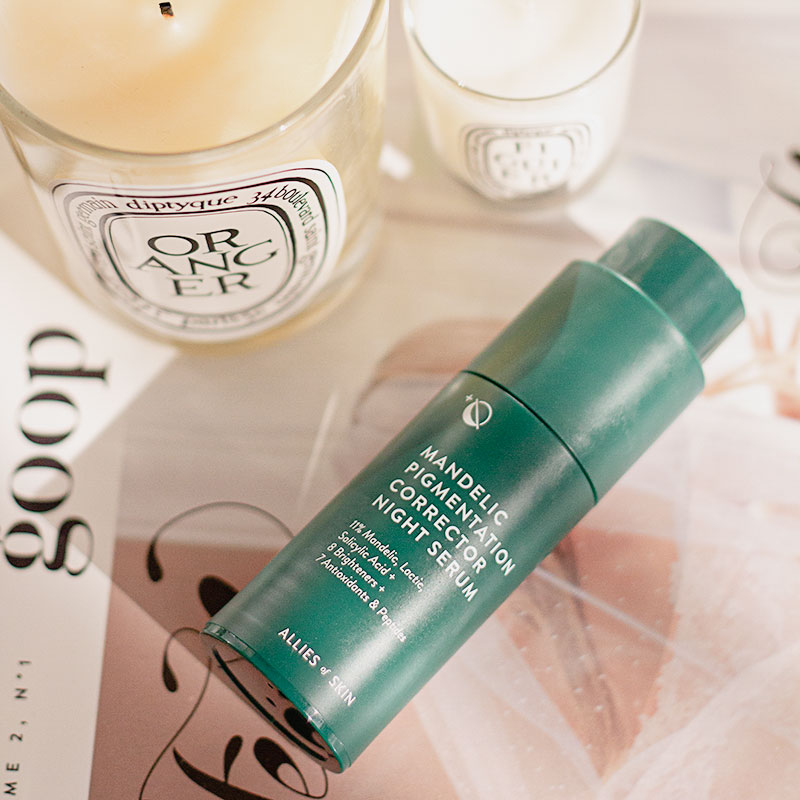 Usage experience
One of the gentlest exfoliating serums I've tried, it's one of the few that I apply near the beginning of my routine as it already has nourishing + moisturizing ingredients as a buffer. Even with 2 pumps I don't feel any discomfort or tingling, nor do I experience any redness.
Now I don't have any major texture or acne issues, so I don't notice any immediate differences in that aspect. My skin still feels and looks pretty much the same the next morning, perhaps with a slight improvement in tone and smoothness. But to be fair that's pretty much my experience with exfoliating serums in general – none really make me go WOW the next day.
However I noticed that with regular usage my skin is looking more radiant and the appearances of fine lines and pores have diminished. The long term results are more prominent than most other serums I've tried. Not surprising at all given the excellent mix of ingredients that address brightening, anti-aging, texture, and dryness!
For me the main drawback of this product is its price, but with the great mix of ingredients, the Allies of Skin Mandelic Pigmentation Corrector Night Serum could potentially replace all your other serums!
Allies of Skin Mandelic Pigmentation Corrector Night Serum alternatives
But in case you're looking for less expensive alternatives, here some suggestions:
Dr. Wu Intensive Renewal Serum with Mandelic Acid 18% – Despite the high % this is actually incredibly gentle and delivers great results. This is mainly an exfoliant, so you'll get minimal moisturizing or antioxidant benefits from this one. Still my favorite mandelic acid product to date.
The Ordinary Mandelic Acid 10% + HA – Super affordable and includes hyaluronic acid for hydration, but there's not much else. Haven't used this myself, but it's a so affordable that there's really no loss in trying.
Facetheory Mandelibright Serum S7 – This also has 10% mandelic acid but features 2% niacinamide, green tea extract, and hyaluronic acid to protect and hydrate the skin. Haven't tried this one either but the ingredients look promising!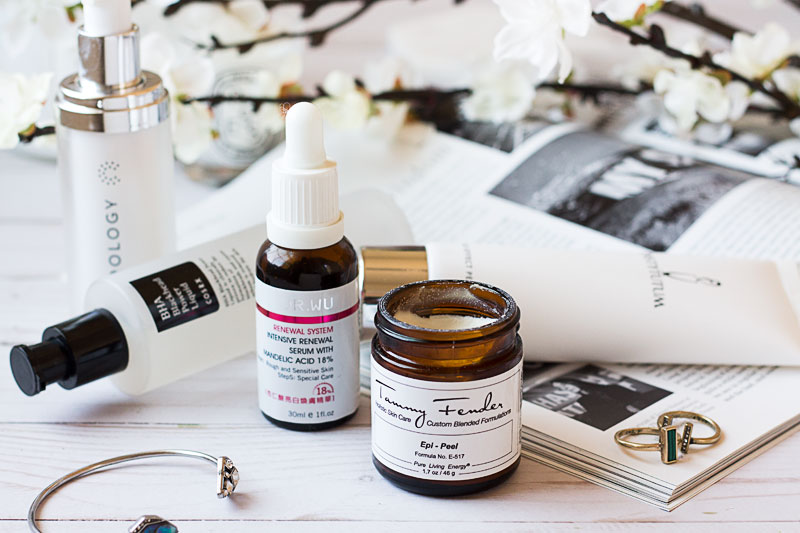 Want to learn more about mandelic acids? This post has all the details and more product recommendations!
Final Verdict
Packaging

Ingredients

Texture/Application

Performance

Price
Definitely a luxury skincare product, but one that lives up to the high price point. The excellent formula makes it safe for frequent, even daily uses, and the benefits are enough to replace your other products. I can see why it's well loved on social media, it's honestly hard to find flaws with this one. I highly recommend this if you want an all-in-one evening serum that's gentle but still deliver long term results.
However for my personal needs and skin type, I still find the Dr. Wu Mandelic Acid Serum to be more effective and cost efficient, so I will not be repurchasing the Allies of Skin.
Article Sources
To keep my content accurate and trustworthy, I rely on peer-reviewed studies, articles from reputable academic institutions, and quotes from certified healthcare professionals to back my claims. No woo-woo clickbait nonsense here!