This Sunday we got the chance to revisit our incredible wedding venue, The Willard Intercontinental Hotel, for their cherry blossom afternoon tea. My outfit of choice? A blouse + full skirt + statement pearl necklaces + nude heels.
But first, tea
🍰 Food
Since this is their seasonal cherry blossom tea, all the sandwiches and tea selection were Japanese inspired. They were also totally delicious, and the portions are just enough where I'm satisfied without feeling like a stuffed pig.
🎶 Ambience
I've had tea at several hotels now and this décor wise the Willard is my favorite. The iconic Peacock Alley exudes luxury and comfort, plus I love that they generously decorated the place with cherry blossoms too. And the lady playing the koto? Perfection.
🧑🏻‍🍳 Service
You'd think at a high end place like this service would be impeccable, but it was slow and almost careless. We'd ask for refills for our tea and the staff would seem to acknowledge our request, but then we'd never get our tea. Such a shame because everything else was spectacular.
💸 Price
$75 per person / $85 per person with a glass of Perrier Jouet Le Fleur champagne (plus service charge & taxes)
$45 for children 5-12 years of age (plus service charge & taxes). Children under 4 dine complimentary.
Of course you can also opt for regular afternoon tea outside of cherry blossom season, and the prices are slightly lower. I haven't tried that myself, but my friends did and they really enjoyed it. They also said service was fine, so I'm guessing it's a lot less crowded then?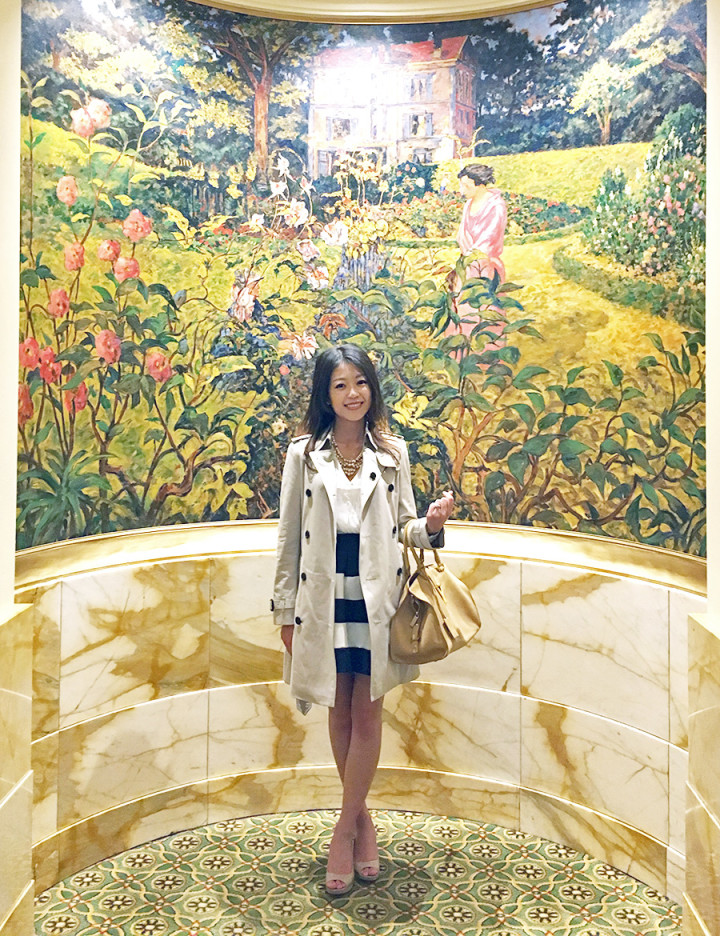 About the trench coat, I don't usually buy designer clothes (as evident from the blouse and skirt), except when it comes to outerwear. I adore Burberry because their silhouettes are really flattering and the fit is impeccable. So of course, a Burberry trench coat is a must-have for me, and it's such a versatile + classic piece, totally worth the $$$. They have sales twice a year, or you can try the outlets during major holidays for 30% off!
The outfit
The blouse is from H&M, one of my go-to places for stylish but basic pieces. The sheer blouse is great for warmer weather, and you can easily layer a white long-sleeve tee underneath for extra warmth. I wore the Heattech Scoop Neck Long Sleeve Tee underneath from Uniqlo – these are incredible for layering or wearing on their own!
The skirt is from Charlotte Russe (similar one here) and I shared it on the blog a while back. I've worn this with blouses and sweaters, in the winter and summer, with boots and with heels – it's an incredibly versatile and affordable piece.
I'm not terribly fussy when it comes to shoes, as long as they look nice and are comfortable. I would recommend a pair of nude pumps for anyone, because they're easy to match and help elongate your legs.
I love pearls for dressing up an outfit, but sometimes they can look too matronly. This piece offers a fun twist on the classic pearls and works for both casual and dressy outfits.
Shop This Post